NO EXPERIENCE IS NEEDED. DIY.
Free Slideshow Video Maker: Create Photo Video Slideshows
Join 1 million+ users who have fallen in love with Vimory.
Fast and easy video slideshow maker. Create your own video slideshows for free with VIMORY Slideshow Video Maker and share them everywhere instantly. Mix your photos with music to make a professional slideshow video that will impress your friends, family, fans, followers, viewers, subscribers, customers, and clients. Try it free. Make your slideshow video now.
Bring your 📸 photos to life with VIMORY slideshow video maker 📽️
Slideshow video maker for iPhone and Android Mobile Phone

No editing experience is required!
Slideshow videos let you share your experiences, promote a brand, build a following, save and share your family memories.
Vimory's slideshow video maker is easy to use and quick to learn. Simply upload your photos into our slideshow video creator and add text and music to tell your story. Once your slideshow video is complete, share it with friends, family, fans, followers, viewers, subscribers, customers, and clients.
Make a Slideshow Video in 3 steps with Vimory Video Templates
Select your desired video template from Vimory's slideshow video templates library.
Add your Valentine's Day photos and modify the default text. Then, follow the following instructions displayed by the Vimory app on your device screen.
Artificial Intelligence (AI) powered professional slideshow video maker Vimory will do the rest of all automatically.
VIMORY slideshow video maker templates that make it easy to create slideshow videos instantly from your pictures
You can bring your old memories alive using this effective memory-making template. It is best for those who love to make their old memories using old photos. Professional video-making template.
World's people are waiting for you. Gorgeous is a fashion magazine template. Using it, you can turn yourself into a professional and stylish fashion model. So, spread the word about yourself.
Turn your shopping photos into a fashionable video memory using this template. It is suitable for professional wholesalers, retailers, clothing, and any brand selling for commercial purposes.
You can turn your happy marriage anniversary photos into a magical video memory using this excellent photo-to-video-making template. Make your dream video memories with a few touches.
You can make yourself like a professional model using this excellent, fast, and easy template. It is helpful for Instagram and all social media users. Show yourself as a model before the world.
CELEBRATE SPECIAL MOMENTS
You can turn your kid's birthday party photos into a video memory using this impressive template. It's a very simple way to make a birthday party photo to video slideshow for any social media posts.
Make a breathtaking slideshow video with music and photos
Vimory slideshow video makers can be a powerful storytelling tool for you. Expert tips and most beneficial practices will help you make a professional-looking slideshow video that captivates your audiences.
Keep slideshow videos short
Whether you're making a slideshow video to share with friends, family, fans, followers, viewers, subscribers, customers, clients, or a slideshow ad for social media such as Facebook, Instagram, LinkedIn, Twitter, etc. video should remain short.
Short and concise videos are best for keeping your audience's attention, mainly if there is a lot of other content to accompany your slideshows, such as other written content.
For a more extended slideshow that contains a mix of photos, aim to keep the video at 20 seconds.
Design a storyboard to plan your slideshow video
To create a slideshow video with your images and other content should all work together to tell a pleasant story.
For example, if you're making a video slideshow with music, you'll also want to ensure that your still images match the beat and underlying feeling of the music.
However, it is not always easy to visualize how well it all flows together when working with multiple images.
The storyboard can be a helpful tool to plan your slideshow video and choose the correct elements.
Design a storyboard or outline to plan out your content and develop a logical order for presenting each photo and text.
Then, use Vimory's slideshow editor to add all your images and other elements, add text, customize colors and fonts, and fine-tune your work to create a professional slideshow video that flows seamlessly and tells an impressive story.
Finally, you can share your slideshow video online to your chosen social media channels with Vimory's built-in sharing tools or save it to share next.
Add text to photos to convey your message.
Use Vimory slideshow video maker with text features to enhance your pictures with captions and other text to highlight important points or strengthen your key messages.
If you're making an animated slideshow video for social media, keep in mind that many users browse social media with their sound off, so they won't hear your music or other audio unless they turn their sound on.
To inspire them to hit the unmute button, you need to attract their attention and spark their interest within the first few seconds.
So make your slideshow video introduction count with a captivating hook that users cannot ignore.
Use high-quality photos for the best output.
Slideshow videos for life's important moments
Make magic slideshow videos
Create birthday celebration videos, invitations, thank you messages, etc., for birthday party guests. Share slideshow videos across social media to create a lasting memento for friends and family.
Celebrate anniversaries
Whether it's a save-the-date slideshow for an upcoming wedding, a celebration of a 50th anniversary, Vimory lets you tell an original, personalized story about a loving couple. You can add your wedding slideshow video to wedding websites. Also, share on social media in just a few clicks.
Graduations, reunions, vacations, and many more
Share life's milestones, big and small. Make video photo albums to preserve memories and post on social media. Celebrate holidays and every moment. The possibilities are limitless.
Slideshow videos help to grow your business
Promote your products and services
Grab the best-looking shots of your products. You can even take photos from catalogs and pull photos from social media such as Facebook, Instagram, Twitter, LinkedIn, etc. Highlight your products and services most beneficial features and most attractive selling points.
Celebrate your team achievement
Whether you're sharing a company milestone, a holiday greeting, or just an introductory video about your business, slideshow videos can help show the world why your brand most important. Bring your employees together and create a well-crafted message from your organization.
Make helpful tutorials for your clients
Guide your customers through the process of using your products. Make how-to videos designed to help clients get the most value from your offerings while also addressing frequently asked questions.
Where to share your slideshow video
Post it on social media
Share on Facebook, Twitter, and more, right from Vimory's photo-video maker. You can also download your video and post it to your favorite social media platform.
Show it at an event
Project your video on a screen and share it on Television. Download your video onto a USB drive, and you are ready in moments. Feature an anniversary, wedding slideshow, a memorial tribute, a graduation video, a trade show video, etc.
Add video to your website
A helpful video can help convert customers, whether driving traffic to your website, Amazon, YouTube, Facebook, etc. Share a product demo, interview employees / customers / explore your company's origin story by turning your images into a video.
How to create engaging slideshow videos with Vimory [ A Step-by-Step Guide ]
1. Select Template
Vimory templates are pre-designed for instant video making. You can use it to make on-the-spot videos. It includes everything you need, such as animation, frame, filter, music, etc.
2. Choose Type
Here you can choose your memory type for your selected template.
3. Add Photos
Here you can select photos and add them by clicking the "Next" button.
4. Customize Text
Here you can edit, remove, modify the default text, and you can add new text (custom text).
5. Choose Resolution
Here you can choose video output quality such as 4K(2160p), FHD(1080p), HD(720p), SD(480p), etc.
6. Processing your Vimory
Wait – it's your video processing time. End of this process, you will get your desired video for sharing.
7. Share
You are here. So, your video is ready to share. Now you can share your video directly with friends & family, fans, followers, etc. So, select your platforms such as Facebook, Instagram, Twitter, LinkedIn, TikTok, YouTube, Pinterest, Tumblr, Myspace, Reddit, Skype, FB Messenger, WhatsApp Messenger, Hangouts, IMO, Viber, Email, & more and share. Or save the video to your iPhone or Android Mobile Phone.
8. Your Timeline
Here you can share your video and write something about it, such as Facebook social media timeline.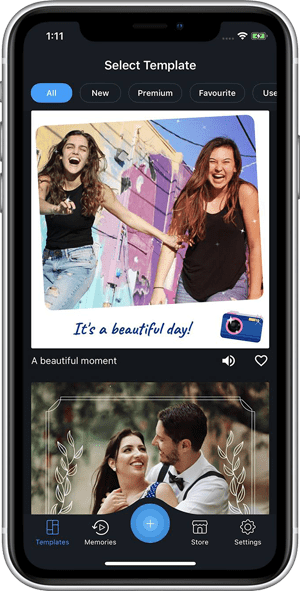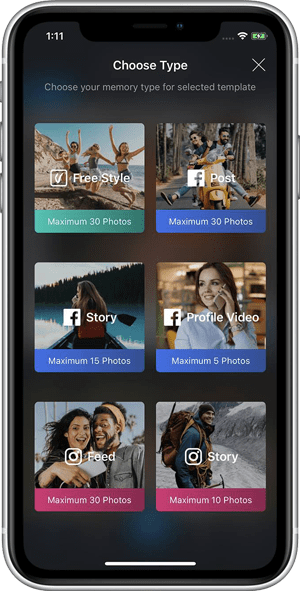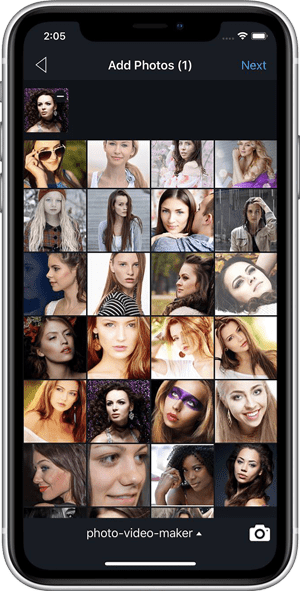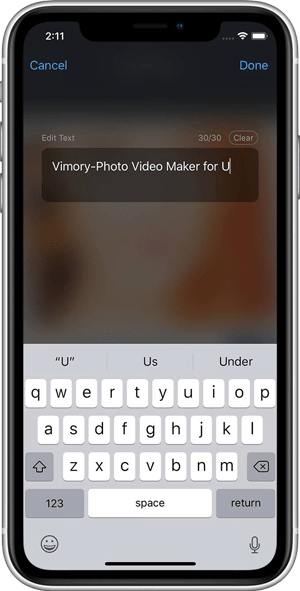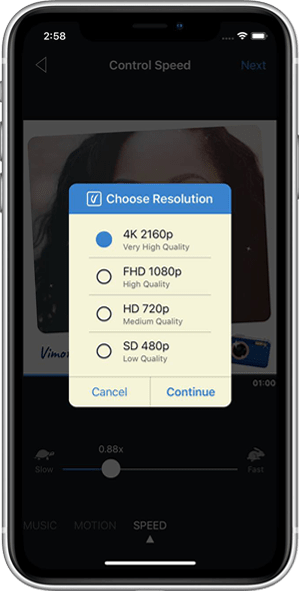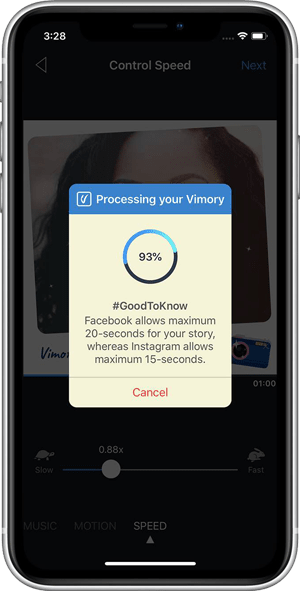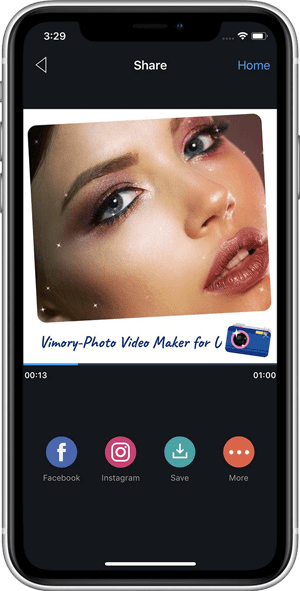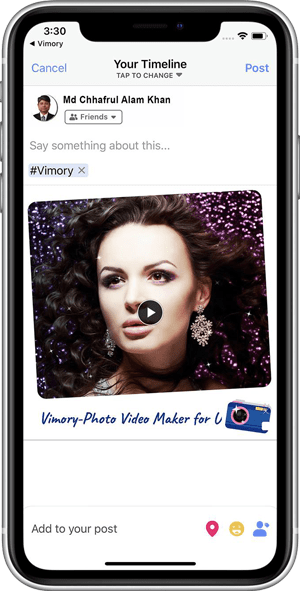 CREATE ENGAGING SLIDESHOW VIDEOS IN MINUTES!
Make your first slideshow video today!
Create and share slideshow videos for free. Upgrade anytime for more customization.
We want to help make engaging slideshow videos
As you start making your slideshow videos, we're here to help along the way!
Get started with Vimory and visit the Vimory help center for your answers to your questions.
Join the Vimory Social Media Community. A team of slideshow video experts is ready to help you grow with tips, ideas, inspiration, along with feedback on your slideshow videos.
Frequently Asked Questions about Vimory Slideshow Video Maker
Vimory's free video slideshow maker makes it easy to make a slideshow with pre-designed templates that help you create a unique and engaging video slideshow instantly. You can modify and add text and subtitles, customize the look and feel of your slideshow video, and more. Finally, wrap up your slideshow video with an engaging call-to-action.
The quantity of photos and graphics you need to make a video slideshow depends on how long you want your slideshow.
Making a video slideshow with still images is easy with Vimory's free slideshow video maker. Begin with a professionally designed template and customize it by uploading your photos or choosing images from your device's photo gallery. Vimory's slideshow video maker allows anyone to make their own simple slideshow or make a professional slideshow in minutes with natural editing tools. No professional design experience is required.