Believe it or not. A mobile application with many advanced features is now live on Google play store and Apple store! For social media users, content creators, or entrepreneur's marketing purposes, this is also for the enthusiastic people who love working with photos and slideshows and heavy music. All in one.
It's a pleasure to introduce Vimory to you.
What is Vimory?
Vimory is a super-fast super easy image editing, video creation, and slideshow/ video maker /gif maker application for an ios/android device. Vimory is the effortless way to turn images into a video with stylish text and transitions, plus it has a lot of pre-built photo video slideshow templates. Furthermore, Vimory is a fantastic video maker app with songs.
Three Steps to go:
Step 1:
Choose an attractive slideshow template.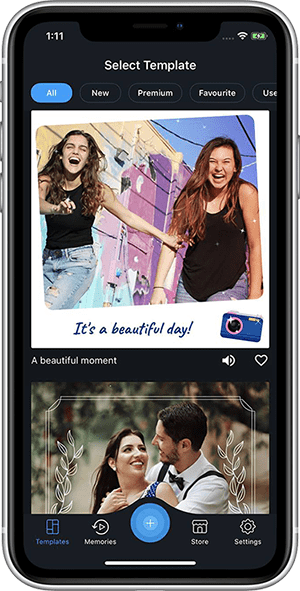 Step 2:
Add photos from your gallery.
Step 3:
Export Video to your Timeline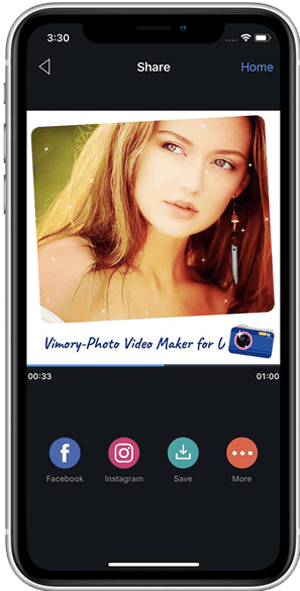 Another way to walk:
There are many pre-made templates there, but even if you don't want to go with pre-made templates. You can walk freestyle and make something unique manually. In this case, you have to add your photos first; then, you can edit your primary photos if necessary. You don't have to look for another application for editing photos. Then choose a slide, add an effect, make some play with framing in the Frame section. You can use any filter if you want. And lastly, add music and change the speed if you want something first or slow down. That's enough way to walk. Now you can export your creation directly to your timeline.
Why Vimory?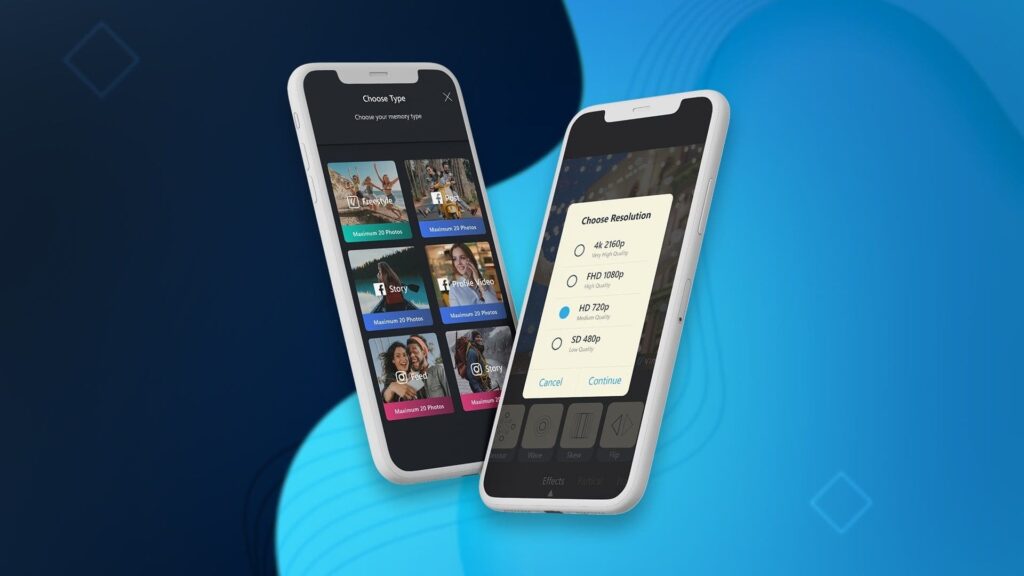 Vimory is mainly a photo-to-video maker application that allows you to edit your photos with unique features, animated slides, incredible effects, beautiful frames, and whatever you want.

Free Features
One of the many beautiful things to share that many features from Vimory are free. You can get access to many pre-built dynamics.
Story Teller
You can tell your Story by Using Vimory with your snaps. A story can attract many audiences.
Easy and fast creation
When it comes to easy and fast creation, Vimory is about as multifaceted as they come. Vimory offers standard, simple, high-quality video editing. The design is straightforward to use and comes to rearrange with filters, overlays, motion elements, transitions, and a small selection of royalty-free music.
Simple
Vimory is a Simple looking app. There's nothing that looks complicated or you don't understand. The process might be simple and easy, but the results are tremendously sophisticated.
Powerful Performance
Vimory is a uniquely powerful Photo Editor. It can give you a powerful performance within a few minutes. Think Photoshop, but simplified for everyday users. With Vimory, you can easily create stunning, professional-quality images with a single click.
User-friendly interface



Vimory is the most user-friendly application you've ever noticed. Even a novice can make something heavy by using this Vimory video maker. Compared to other photo maker applications, Vimory is Better, Faster, Stronger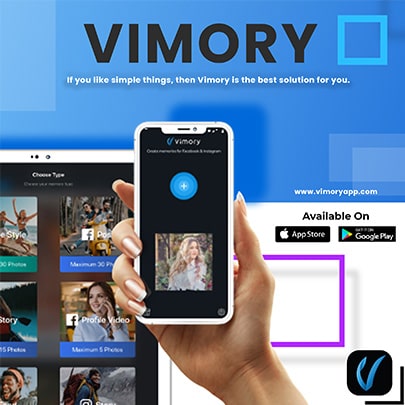 No experience is necessary

It might be that you're a novice with this type of photo maker. But don't panic. Vimory requires no prior editing experience. You need to prioritize your choice first. And after a few clicks of choice, you will have a fantastic video in a short time.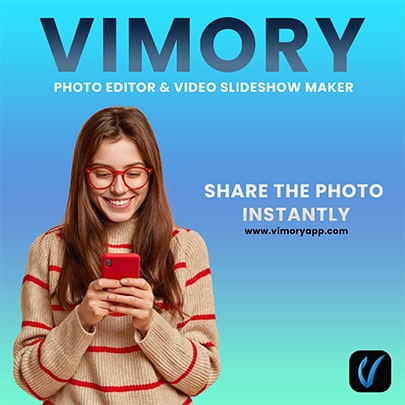 Saving time with Fast Result
There are only a few steps to make your final result. First, you don't have to utilize much time to create something. There are also multiple pre-built dynamic templates, Frames, and Filters waiting for you. Finally, you have to choose and touch on your favorite option. And your video/slideshow will be ready in a few minutes.
Vimory Photo Editor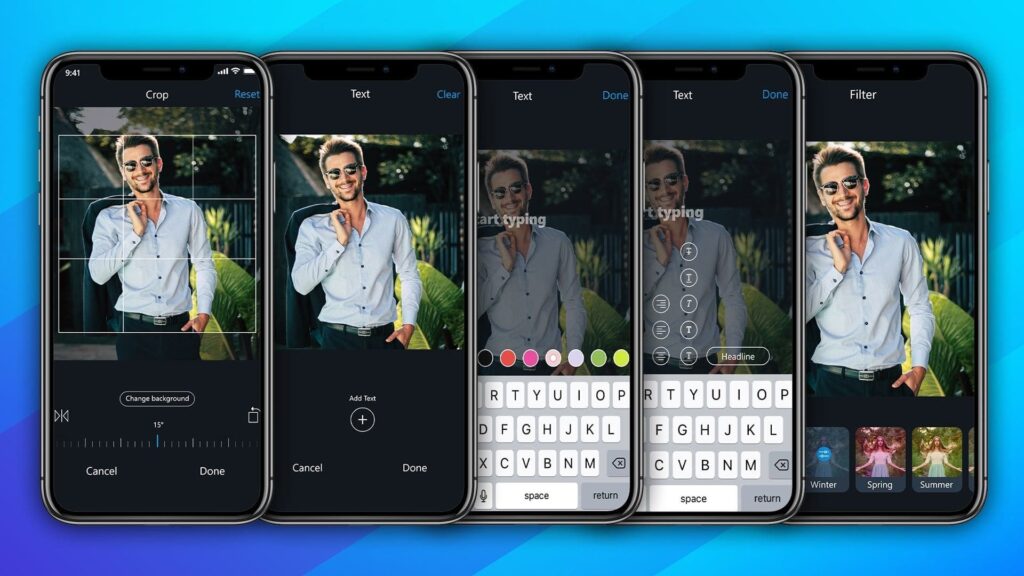 Photo Editing is a unique feature of Vimory. Vimory photo editor couldn't be easier to use. No complicated tools or confusing – just simple, straightforward tools that transform your photo. Drag your photo into the Vimory editor to get started. There are many tools to customize your photo.
A comparison between Vimory vs. Others Video Maker
( Based On User Experience)
In a world of many competing photo-making applications, service, and content providers need to provide a user experience that can reduce as much as possible error of using their applications.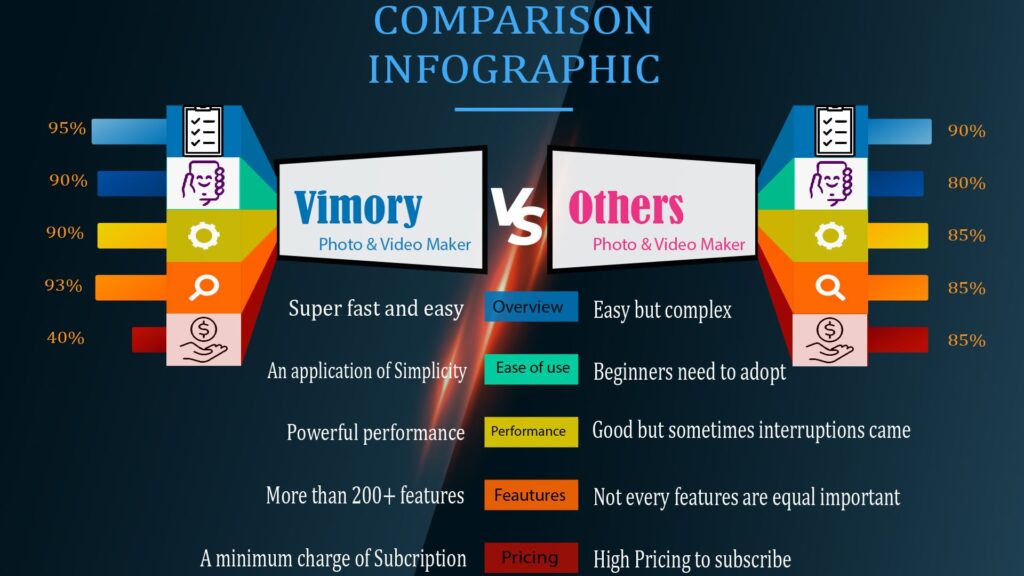 Benefits of Vimory :
Vimory offers many benefits for the users. Some are given below;
Social Media Video Maker
Light up your social media with Vimory. Vimory is also known as a Social Media Video Maker. We love to share our favorite photos and memories on social media. Sometimes we hang out or tour with our friends, or we. might be in your living room. We love to share our situation wherever we stay. In this scenario, many social media users share one or two photos. Some uploaded by editing something, but people love to skip gently because these photos couldn't impress all of us.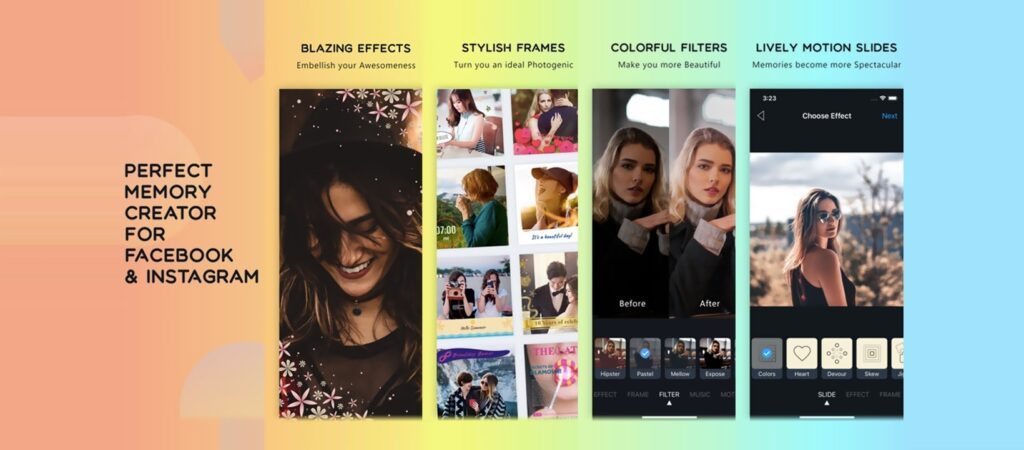 Facebook Video Maker
You don't have to find any Facebook video maker to make something impressive. This time Vimory is for you. Make stunning videos for your Facebook timeline or your Story. You can make dynamic display photos by using Vimory. Engaging with friends and followers with a fantastic video will be a great experience in Social Media Journey.
Instagram Video Maker

Pick a template that fits your Instagram profile, and then create something impressive with Vimory for your Instagram feed or Story.
Vimory helps you turn your ideas into an impressive, eye-catching video in a matter of minutes.
It is such an excellent opportunity for Instagrammer to turn your videos into tons of reactions on your profile and create more followers with your creative creation.
Linkedin Video Maker

Create attention-grabbing eye-catching videos for LinkedIn in less than one minute. Get started quickly with video templates that are designed to extend in the LinkedIn feed.
Show your LinkedIn network that you're a genius leader in your Industry. Grab attention with professional LinkedIn videos using Vimory video maker. Start making LinkedIn videos to grow your business today.
Youtube Video Maker
Upload Youtube videos with Vimory and increase your subscriber intensity. But, unfortunately, you won't find a super fast and more accessible youtube video maker like Vimory.
YouTube is one of the best stations to upload your brand front and center. Where you can catch many audiences, Make your Youtube channel stylish with stunning videos.
Twitter Video Maker
Would you love to create videos for Twitter that are assured of getting more retweets?
Would you love to announce a product launch, event, or news item to your followers with an engaging, interactive video? Well, now you can, with Vimory.
GIF Maker
Vimory allows you to create animated gifs, slideshows, and video animations with music easily. No experience is required. Play a gif with sound, or share your life moments with your friends on Facebook.
Boost your business and Work (By Industry)
Whether you're just starting a startup or are trying to build up an existing brand, Vimory has everything you need for your marketing and business needs. For example, a short video clip or a slideshow might tell your business story and prompt your product.
In addition, it will help your brand to catch new consumers.
A whopping 85% of businesses now use video as a marketing tool, with 92% of marketers agreeing that it's an essential part of their strategy.
Product Video Maker
If you are ready to launch a new product, you need to make your product video before you've made any sales. So, it would be best to have a product video maker that doesn't burn up all your profits before getting your launch off the ground.
Product videos proved that increased sales. Vimory makes it easy to create videos to showcase your products or eCommerce site.
Make a product video that can boost consumer interest. Here is an important note for you; Customers are 64% more likely to purchase after watching a product video.
Product videos form the foundation of your eCommerce marketing efforts. So it's only fair that you use a tool that saves you time on video production while still delivering content that converts.
E-commerce Video Maker
As far as you get started making videos for your e-commerce website or applications, Vimory is here to help along the way! Quickly turn your product photos into an E-commerce video to boost your online sales for free with easy-to-use yet powerful video maker. Click on a template and start customizing with your photos and clips.
Educational Video Maker
In modern days, We all understand the importance of online education. And here, educational video plays a vital role for everyone. Explain educational topics with video; you can attract your students with videos. There is No need to be a video expert to create content with Vimory.
Creative Content Creation
( Personal)

Sometimes we want to make a slideshow video template for our best friend's birthday. Or maybe sometimes we want to create a fantastic video for our social media display photo.
You can share your video/slideshow with your friends and family on different social media platforms, for example, Facebook, Instagram, Twitter. Vimory is one of the many excellent video slideshow makers and online slideshow makers.
In this case, we don't need to learn heavy software. So what do we need for this bucket list?
Just a video maker app.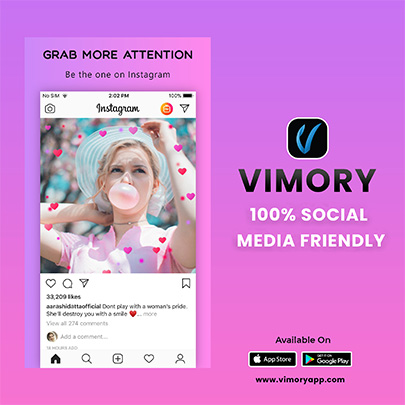 Wedding Video Maker
If you want to make a wedding video, that will be remarkable.
Convert your engagement or wedding images into a fantastic video using Vimory.
Then, celebrate your priceless moments with a timeless video. Also, some wedding video templates are waiting for you.
Memorial Video Maker
Keep a loved one's memory alive with a memorial slideshow that tells their Story. Vimory memorial slideshow maker will help you beautifully pay tribute. Add cherished photos and music they loved, and we'll handle the rest, from funeral slideshows to personal keepsakes to videos for sharing on Facebook or Instagram.
Birthday Video Maker:
It Might be your friend is in sweet sixteen, or your grandfather lives in a stunning sixty. A Birthday is always special for us. So sneak in a birthday wishes video along with your surprise birthday party.
So let's celebrate our birthday with Vimory. Here's an excellent collection of templates to help you get started! You can make our birthday videos in just a few simple steps.
Graduation Video Maker
Are you looking to make an awesome Graduation video for your whole class, a group of friends, or with your teacher and classmates when graduating? Well, now you can do it, do it with Vimory.
All in one video.
Christmas Video Maker
Christmas is a festival time and the time of giving. So this Christmas, gift your loved ones a lovely Christmas Video Greeting. Make a greeting video to wish your friends a Merry Christmas.
Holiday Video Maker
Creating a holiday video is one of the many acceptable ways to capture a special day and create a memory that memory will cherish. A perfect holiday slideshow with animation and music will recreate the spirit of celebration better than a random collection of photos. Do it with Vimory.
Trending Now
Anniversary Video Maker

An anniversary video maker helps you impress your loved ones with a beautiful anniversary video, whether used for a wedding/friendship anniversary.
You can use pre-built video templates and photos to make a moving video and celebrate the precious moments together. On this anniversary, use this video to say that I love you to your loved one.
Invitation Video Maker
An invitation card might be old-fashioned. But how's it look to invite your friend with a stylish slideshow? Informing your friends about your upcoming event is essential, but it's easier said than done. If you're looking to create hype around your upcoming party in a fancy, fun way, online party invitation maker is your best bet.
Vimory offers an incredibly easy-to-use invitation maker slideshow to help you create stunning invites within minutes.
Explainer Video
Make an informative explainer video that is guaranteed to make your audience feel smart. It's no surprise that only 20% of visitors to your site will read a document, but 80% will watch a video.
Ramadan Video Maker
Ramadan reminds us of peace and brings happiness to our life. Share your Ramadan happiness with your surroundings.
Make beautiful Ramadan videos for your fellow brothers and social media. Choose from Vimory pre-built templates, which are ready-to-use templates featuring HD footage and royalty-free music. You have all you need to create the perfect Ramadan greeting in minutes.
Special Occasion ( Public)
Father's Day Video Maker

Sometimes we need to make a smile for the person who is responsible for all of our success. So express some love for him by making a father's day video with vimory. Templates are ready. Just select your few photos with your father to make a wish for a hot day.
Or all the together moments you shared and cherished, a Father's Day slideshow will show just how much you love him.
It is the time of year when dads feel loved and appreciated.
Mother's Day Video Maker
Here is the beautiful day of the year,
Show the world how much you close with your mom with our Mother's Day slideshow maker.
Here's a chance to let her know what she means to you. Click on a pre-built template and create a fantastic slideshow with you and your mom's photos from the beginning.
Content For Everything Else
Women's Day Video Maker
Want to create a women's day video quickly? all you have to do is click on the suitable template from Vimory's massive template library. But, of course, if you have your ideas, you can also start with a manual project!
Friendship Day Video Maker
Do you love to surprise your best friend by making a friendship day video? Vimory always loves to respect your friendship. You can create a friendship day by clicking preset templates from Vimory. Just a few clicks and makes your friendship stronger and loyal.
Valentine's Day Video Maker
Do you want to make a unique Valentine's Day video for your special one or make a Valentine's Day video for an advertising purpose or campaigning or Facebook page?
Whatever your target, the task will be much easier if you use a ready-made template for your video, waiting for you in Vimory.
You don't need any special editing skills because Vimory is super simple to use.
Drag and drop your photos into our online slideshow creator and add text and music to tell your Story.
New Year Video Maker
Sometimes we have to say bye-bye to the last day and welcome the new day with all of our people. So this time, Say Thank you for the last year, and happy new year to your family and friends with this customizable video template. Personalize your message, then send it directly or share it across your socials.
Black Friday Video Maker
Black Friday is coming soon, and your shop must be ready for the big sales. Just announce it to your customers. Black Friday is the day of business and enjoying shopping, attract more people to your store,
select the desired Black Friday Template and customize it with your ideas.
Easter Video Maker
No matter what kind of easter video you love to create, you can always get some ideas from Vimory's Pre-built Templates. No skills required.
Cyber Monday Video Maker
Create videos for ads and promotions on any channel by choosing from your favorite
Cyber Monday sale template and prompt your product with Vimory.
Thanksgiving Video Maker
Thanksgiving is the perfect time to recreate your family photos and stories as all generations gather to celebrate the holiday. Vimory Preset dynamic template designs make it easy to turn those memories into a slideshow.
Halloween Video Maker
Halloween is knocking at the door, and right now, it's time to make something unique. You can take advantage of the Halloween preset template with a fear soundtrack.
Funeral Video Maker
Show some respect to the life of your loved one by making a slideshow video that tells her Story. Import photos and video clips with music to create a video that'll help their memory live on. Then, share your video at a funeral service or memorial.
Who Will Be Benefited?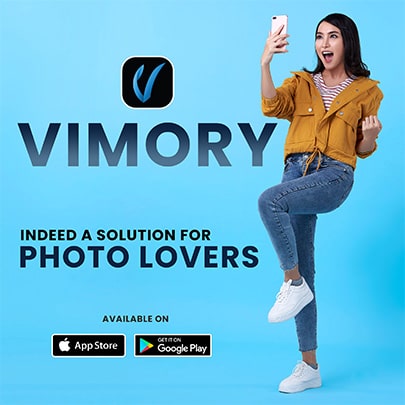 Social Media User
Many social media users love to share their daily life with their friends. Vimory will create your dynamic display photo, Story, and video or slideshow for your timeline.
Instagrammer will benefit directly from their Story and feed. You can make a portfolio for your LinkedIn feed. Also, your timeline might look more dynamic and stylish by Vimory.
Enthusiastic People
All of the enthusiastic people who love to make something new, traveler, vlogger, video creator, video editors, these stakeholders will benefit from Vimory.
Entrepreneur
Today, social media is the platform marketing channel for many businesses out there. From Facebook to Instagram, and many others in between, social media has managed to bring customers and brands closer than ever before. By professionally editing your images before upload, adding visual cues, beautiful word-art, etc., you can give your business a head-start over your competition.
Entrepreneurs could be the beneficiary stakeholders by using Vimory. Vimory helps you to build your brand, promote your product to better sales. A video/slideshow can catch new consumers. A storytelling video can Build Respectability and Credibility.
Content Creator
As a content creator, you love to make content in the shortest time in many acceptable ways. That's why Vimory is your best option to make your content.
Maybe you usually love to snap by using your mobile camera. After that, drag into Vimory, and make a gorgeous slideshow with your favorite song or music. and you'll have a fantastic video/slideshow. Now you can be more confident that this slideshow with music will have caught more audience, reached vintage touch more people, and made your profile cinematic with Vimory.
Characteristics of Vimory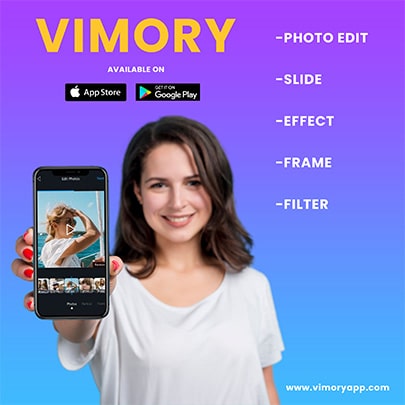 There are some fantastic features in Vimory. You can edit here like a pro with minimum Effort and the easiest way. There are a lot of pre-built dynamic templates waiting for you. You can rearrange every part of your clip and transitions also. So they offer you to change the effect or add some filters with frames! Last but not least, you can export a video/slideshow directly to your timeline and share it with your friends.
Vimory Video Maker
No experience necessary to make a slideshow or video by using your photos. There are only three steps to go. First, select a template, then select your photos, and then consider your background music. Then you can see that your product is already produced and waiting for your share.
There are some snitching advantages to making videos with more. You don't have to tense about templates, music text, or transition. You only choose what way you love to go with.
Also, you can edit your photos if photo demand.
Save time and surprise your friends and followers with unique video moments from a neat user interface. According to user reviews, it's free and one of the best photos to video-making apps for mobile users.
In Vimory, you don't have to make a slideshow manually because your favorite slideshow is hidden in the early ready-made slideshow video template in a dynamic way that Vimory offers you at the very beginning.
SlideShows Templates
If you're looking for a modest and user-friendly app for creating lovely slideshows, Vimori is your best bet. .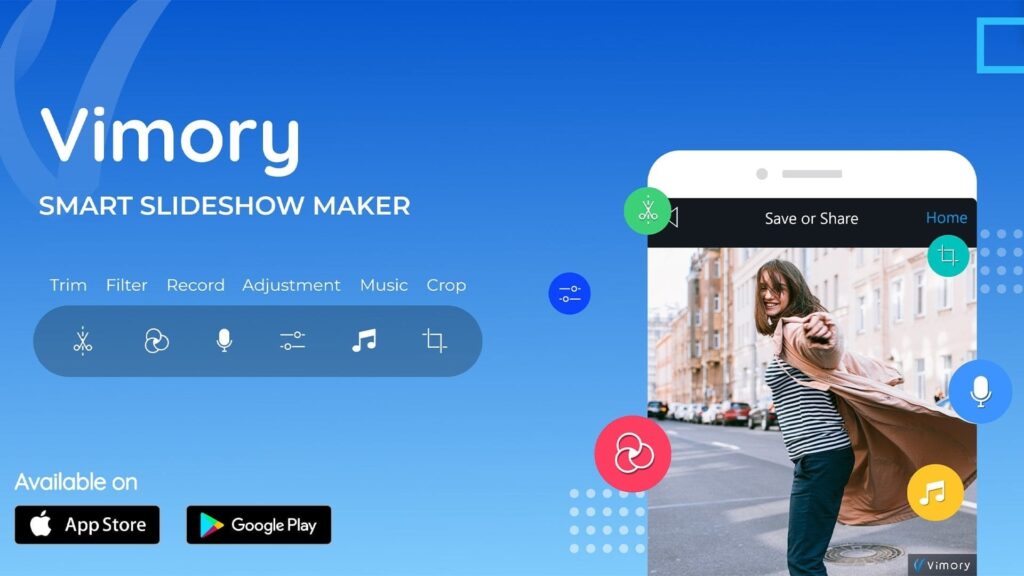 This app offers filters and special effects, where you can apply a wide range of transitions to turn your slideshow into a dynamic visual experience. The transition effects gallery is rich with eye-catching solutions such as;
● Fade
● Move
● Slice
● Twins
● Slideways
● Colors
● Chora
● Paint
● Heart
● Window
● Flip
● Bubble
● Flash
● Wave
● Curtain
● Holography and many more!
You don't have to worry about the transitions. There are a lot of preset slides, possibly more than you want. You click on them and boom!
Pre-built Dynamic Templates
Pre Built Video templates that make it super easy to create videos from your photos. There are a lot of eye-catching templates waiting for your click.
Some are Premium, which wouldn't fall too heavy on your wallet. But there are plenty of free templates that you can use for making videos or slideshows.
In this pre-built templates section, you have to do nothing but click on your favorite template, and you're just three-step away from your perfect video.

10 Templates by name:
— Flourishing star
— Smiling heart
— Be special
— Classy and Fabulous
— Style with attitude
— Past never dies
— Dream big Sparkle more
— Only music is real
— Mother's love
— Feels Loved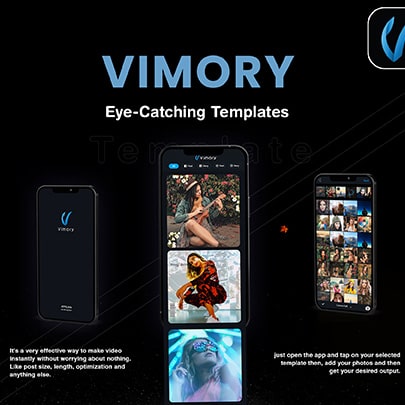 Advantages of Pre-built Templates:
• Professional-looking templates for their slideshow videos.
•.There are limitless options to choose from.
• Each template element is fully customizable.
• Multi-slide magazine and kids template.
• Multi-colored, color, sliding template with century leaf style frame
• Single image template with colorful frame
• Multi-slide magazine template for professional modeling show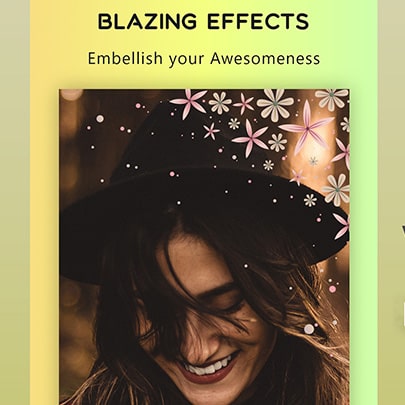 Effect
Vimory is a Slide video maker with some attractive effects. You can add effects directly to your image to make it more eye-catching. You can apply a difference of effects to make an impressive video/slideshow.
For example:
Star, Bubble, Theater, Petals, Glister, Heart, Love, Cosmic, Spark, Lightning, Rain, Autumn, Flowers, Snow, Snowflake, Blizzard, Emo, Birthday, Confetti, Bokeh, Firefly, Farina, Pollen, etc.
Frame
Add funny stickers, stylish frames. There are various themed stickers, customizable frames, and borders.
Add more enthusiasm and flair to your photos with these add-ons. You will have lots of fun during your experiments!
You can use different types of frames in this photo maker app. For example:
Halloween, Celebration, Birthday, Food, Love, Anniversary, Magazine, Seasons, Travel, Vintage, Kids, Girly, Friendship, Floral, General, Special Moment, and many more.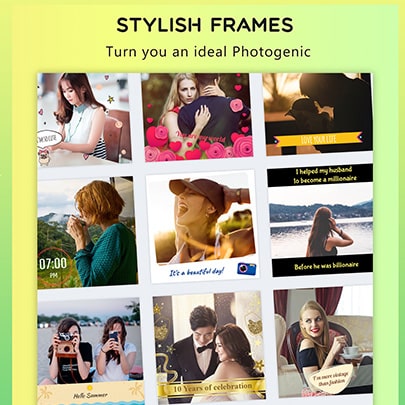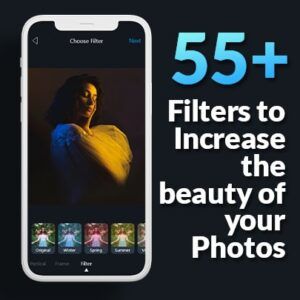 Filter
There are some fantastic filters to enhance your slideshow. Such as:
Aglow, Zesty, Tepid, Charm, Vintage, Gloom, Fade, Campfire, Warm, Fiery, Retro, Wintry, Polar, Dazzle, Lucid, Cinematic, Moon, Sepia, Neopan, Coffee, Crimson, Beauty, Expose, Candid, Twilight, Whimsy, Beryl, Cloudy, Rainbow, Sunset, Eclipse, Vivid, Forest, Verdant, Hipster, Pastel, Mellow, Bright, Mountain, Hue, Duotone and many more.
Importance of Filer: Then, share
Black and white, sepia, vignetting, and pixelation are excellent photo filters and effects that are an irreplaceable part of the modern photo editing era.
Be in the trend and add a touch of vintage to your pictures, turn real-life scenes with various effects or apply a selective focus effect that places one area of an image in sharp focus while blurring the rest.
Duration of Video/Slideshow
The duration of your video/slideshow is very much crucial for the audience. People don't love to spend their time watching some lengthy and tedious clips. After personalizing all of your necessary clicks, you can change the total time of your fantastic product in the last phase.
So in this section, you can speed it up or make it slow, whatever you love to do with Vimory.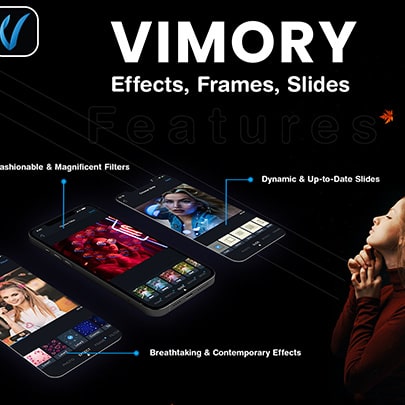 Additional information
Vimory also loves to share knowledge about social media in this era and make you more updated every day. The pick hour to upload any post on Facebook or information like "Instagram posts with a face get 38% more reactions". And you can also update with important information about how many comments or photos facebook receives every second. So in the section on exporting, this time, you will not be bored by gathering some knowledge from Vimory when Vimory proceeds to ready your amazing slideshow/video.
Rich Music Library
Using beautiful and relevant background music helps express your video's production value and effectiveness of your video. Audiences want a professional video that flows well and is well-constructed. And the background music is the bridge that allows the video to transition smoothly between different ideas or scenes.
Name of Some Popular Music:
There is plenty of music in the Vimori library, including genres such as;
● Pop
● Jazz
● Hip Hop
● Rock
● R&B soul
● EDM
● Reggae
We are all very concerned about sound when making any slideshow or video. Vimori is at the forefront because there are a variety of music test additions. You can import your favorite music from your device. You can be a fan of any music, but you will find all your favorite music together here. It is such a unique addition to Vimori.
Photo Edit With Vimory :
You don't have to worry too much about your primary photos. You don't have to use another application to customize your photos. Because after selecting your primary photos to make the slideshow, you can edit the perspective of your photos, change the color, focus, filter, or adjust your photos with an adjustment tool. In a word, you can personalize your photo.
This Edit tool offers you various editing options to make your photos look better before it goes into the videos! Such tools are;
● Crop
● Perspective
● Draw
● Magic Brush
● Sticker
● Filter
● Adjustment
● Sharpen
● Focus
● Vignette
● Emoji
● Text
Four edits every photographer usually uses
Crop
Sometimes unwanted or unusual things are interpreted into our photos. So crop your photo and select the actual scene you wanted to.
Exposure
Adjust Brightness with Highlights and Shadows to add contrast.
Saturation
Increase/ Decrease Saturation to enhance colors, decrease it to reduce their intensity.
Sharpen
Increase/ Decrease Sharpen to add contrast to the details and lines within your photo.
Editing your images is an easy task. Crop and rotate them and adjust exposure, contrast, and Brightness. Vimori also provides fantastic color quality and ensures that your slideshow video plays as smoothly as possible.
After you're done with editing, you can save your photos in your store or share them anywhere you want.
Directly Export to Social Media Timeline
After finishing your essential task with Vimory, you can share your creative Work with Vimory. You can share it anywhere, like Facebook, Instagram or export it into your device. In addition, the Video Output resolution is 4K, FHD, HD.
Fun and fast, Vimory is there to decorate your social media posts, perfect for Facebook Profile videos and Instagram video moments. Now you know that this app is a mix of several attention-grabbing photo slider effects & filters.
Save time and surprise your friends & followers with unique video moments by choosing special effects and filters with motion. These are included in a neat user interface to help you personalize your loop library smartly and efficiently. Also, make unlimited image slideshow videos for your Facebook Profile & Instagram.
Pricing
Vimory offers you a transparent and straightforward pricing system.
There are two types of purchasing systems you can pick.
One is monthly, and another one is annual.
You can subscribe to the Vimory Monthly pack for $2.99.
You can access all the Premium Get access to all premium templates with some fantastic photo editing features, animated slides options, multiple effects for lucrative video, Unique and advance filter, Multiple frame option, and no Watermarks and No ads.
Annual plans also offer the same feature at a lower price. You can subscribe to the Vimory Annual Pack for $19.99. Your monthly costing is also reduced; it will be $1.67 if you go with an annual pack.
Compared to the other online offer Vimory offers you the features at a lower price in the online market.
Less Effort significant Work
Vimory is a fantastic app to turn photos into videos, slideshow with favorite music, and smoothie transition. I can assure you that you'll have an incredible journey with this well-thought mobile app.
Quick Tips To Use Vimory: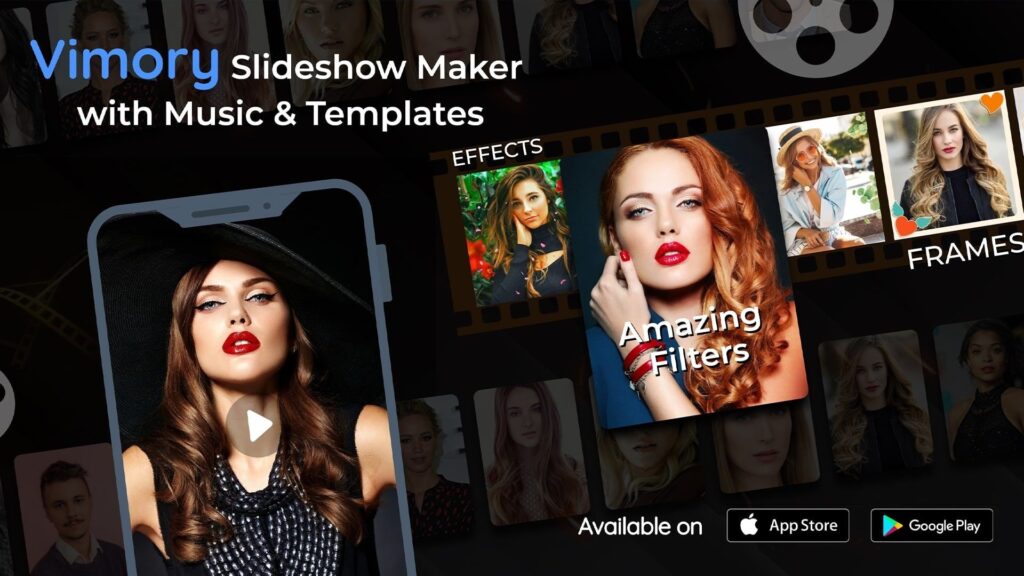 Start your video with a peal. Use songs and graphics that don't just command but demand attention. Vimory offers an extensive range of audio and graphics.
Make sure you include supers. Catch eyeballs at each second with Vimory.
You can easily add various text styles that keep users hooked. Then you can give your business a head start over your competition by vintage touch customize videos to your needs with cuts.
Try to use unique photos with relevant slideshows, and every bit of music should match. Which has an impact on audience concentration.
Use the final mix of photos. It will ensure that your videos look more dynamic.