NO EXPERIENCE IS NEEDED. DIY.
Free Black Friday Video Maker: Make Sales Videos from Your Photos
Join 1 million+ users who have fallen in love with Vimory.
Make Black Friday sales videos for free with VIMORY Black Friday Video Maker and share them everywhere instantly. Mix your photos with music to make an outstanding Black Friday sales video that will impress your fans, followers, viewers, subscribers, customers, and clients. Try it for free.
🛍️💵🛒 

Black Friday

💰💸💳
Boost 🚀 Your Black Friday Sales by creating Eye-catching Black Friday videos. Increase your sales and promote your product by making engaging Black Friday videos with Vimory. Make a Black Friday Video For Free. No experience is required.
Create High-Quality Black Friday Sales Video Content in Minutes
Become a Video Making Wizard Today
Vimory helped over 1 Million people make amazing videos by themselves. As a result, Vimory is trusted by many brands World Wide.
Vimory offers an extensive collection of templates and designs so you can create your own engaging Black Friday video to increase your Black Friday sales. First, select a suitable template that best fits your product or service, add text, effect, frame, etc., and get your desired output video for your Black Friday sale.
Increase your Black Friday Sales with Vimory Black Friday Video Maker
You are planning to increase your Black Friday sales. Vimory Black Friday Video Maker is waiting to help you make an engaging Black Friday video for this special sales deal day. Start by creating a Black Friday sales video with Vimory. You can use different fonts and suitable music. Then, explore this professional, very easy-to-use iPhone Photo Video Slideshow Making App or Android Mobile Phone Photo Video Slideshow Making App without video editing or making experience. It is as easy as pie; add, edit, organize your content, adding a personal touch, and share your Black Friday sales video for all to buy.
Bring your photos 📸 to life with VIMORY Black Friday video maker 📽️
Black Friday Video Maker for iPhone and Android Mobile Phone
Looking for an effortless way to turn your photos into impressive Black Friday videos?

Increase your Black Friday sales with VIMORY. It is an effortless way to turn your photos into sales videos with fashionable text, animation, transitions, emojis, slides, effects, frames, filters, music, motion, speed, etc. Make a Black Friday sales video quickly and easily with Vimory Black Friday video maker for all and promote your business, products, and services with Black Friday sales videos on social media and other web media.
Just add your photos into the Vimory Black Friday Sales Video Creation Mobile App and quickly rearrange your images to tell about your product or service. Drag and drop your way to make a wonderful Black Friday sales video in minutes. No editing experience is required!
Why Do You Need to Make a Black Friday Sales Video?

💵 💰 Cash in on #BlackFridaySale with Vimory Black Friday Video Maker. Make Black Friday Video and Add your products and discounts, then upload to social media. Then, spend some advertisement money to boost your Black Friday sales video post to maximum reach for increasing Black Friday sales 🛍️🛒.
Increase Sales
A compelling selling video can influence buying behavior, leading directly to sales.
Increase Traffic
You can't compare the power of sales video content with other video content to driving traffic to your website to boost sales.
Increase Social Shares
Sales videos on social media platforms generate more likes and shares. So naturally, it will increase sales.
Make a Black Friday Sales Video in 3 steps with Vimory Video Templates
Select your desired video template from Vimory's slideshow video templates library.
Add your Black Friday sales photos and modify the default text. Then, follow the following instructions displayed by the Vimory app on your device screen.
Artificial Intelligence (AI) powered professional slideshow video maker Vimory will do the rest of all automatically.
Get started with VIMORY Black Friday video maker templates that make it easy to create sales videos instantly from your photos
CELEBRATE SPECIAL MOMENTS
You can turn your kid's birthday party photos into a video memory using this impressive template. It's a very simple way to make a birthday party photo to video slideshow for any social media posts.
World's people are waiting for you. Gorgeous is a fashion magazine template. Using it, you can turn yourself into a professional and stylish fashion model. So, spread the word about yourself.
Turn your shopping photos into a fashionable video memory using this template. It is suitable for professional wholesalers, retailers, clothing, and any brand selling for commercial purposes.
You can bring your old memories alive using this effective memory-making template. It is best for those who love to make their old memories using old photos. Professional video-making template.
You can turn your happy marriage anniversary photos into a magical video memory using this excellent photo-to-video-making template. Make your dream video memories with a few touches.
You can make yourself like a professional model using this excellent, fast, and easy template. It is helpful for Instagram and all social media users. Show yourself as a model before the world.
Black Friday Video Maker - Best Practices
Choose Suitable Black Friday Sales Photos
Go through your Black Friday Sales photograph taken from your Black Friday Sales. Find and select high-quality, best, and engaging pictures from them. Engaging photos of special sales moments can turn your video from excellent to extraordinary.
Choose Perfect Background Music
When you plan to create a Black Friday sales video, you may want to make a perfect sales video. But, on the other hand, maybe you will want to pick music with significant meaning for your video. Vimory can help you because it has a broad music library that has everything you want and more.
Choose Effective Social Media Platform
Choosing your most popular social media channels would be the best to upload and publish your sales video there initially. All social media platforms have different video adjustments, such as square, portrait, and landscape. There is no error though Vimory's Black Friday video maker manages video orientations automatically and outputs video that matches all social media platforms, such as Instagram, Facebook, LinkedIn, Twitter, Pinterest, YouTube, etc.
Don't Limit Yourself
You should not limit yourself to one idea, only Black Friday sales. So please, make your Black Friday sales video and celebrate all the special moments in your life. Try to include everybody that was there to make you happy, and don't forget to use Vimory's video-making easy techniques.
Use high-quality photos for the best output.
Tips for creating slideshow look good
Adjust your images
Make your photos look their best. Move, crop, zoom in, zoom out, rotate images to make sure each picture looks just the way you want it to. You can also make your slideshow more dynamic and exciting by adding fast bursts of photos.
Want to create a more identical look for your slideshow?
Add filters to your whole video to make images more engaging.
Add text to enhance your video.
The words you add to your photos can help add context and let viewers know what it is you'd like them to do. When you use Vimory's photo video maker, you can change the text at any time to help show your story. You can also change fonts, text animations, etc., to match the feel of your pictures.
Consider your video style.
Vimory offers plenty of different styles, with exciting transitions and text animations that make your video popular. Think about the look of your video.
Do you want it to be polished?
Bold?
Professional?
Then go in Vimory and experiment with your video's style to find one that works for your video.
Finding photos for business videos
Use photos you already have
Looking for images to add to your video?
Start on social media. Take a look at what you've already posted and see if there are images you can include. You can also look to your website or catalog for image inspiration. Take product photos, your logo, pictures of staff and add those to your next project.
Grab content from customers
In business, word of mouth is one of the best advertisement ways. Ask customers if you can use pictures of them using your products and take screenshots of your best reviews.
Where to share your slideshow video
Post it on social media
Share on Facebook, Twitter, and more, right from Vimory's photo-video maker. You can also download your video and post it to your favorite social media platform.
Show it at an event
Project your video on a screen and share it on Television. Download your video onto a USB drive, and you are ready in moments. Feature an anniversary, wedding slideshow, a memorial tribute, a graduation video, a trade show video, etc.
Add video to your website
A helpful video can help convert customers, whether driving traffic to your website, Amazon, YouTube, Facebook, etc. Share a product demo, interview employees / customers / explore your company's origin story by turning your images into a video.
How to make a Black Friday sales video with Vimory [ A Step-by-Step Guide ]
1. Select Template
Vimory templates are pre-designed for instant video making. You can use it to make on-the-spot videos. It includes everything you need, such as animation, frame, filter, music, etc.
2. Choose Type
Here you can choose your memory type for your selected template.
3. Add Photos
Here you can select photos and add them by clicking the "Next" button.
4. Customize Text
Here you can edit, remove, modify the default text, and you can add new text (custom text).
5. Choose Resolution
Here you can choose video output quality such as 4K(2160p), FHD(1080p), HD(720p), SD(480p), etc.
6. Processing your Vimory
Wait – it's your video processing time. End of this process, you will get your desired video for sharing.
7. Share
You are here. So, your video is ready to share. Now you can share your video with friends & family, fans, followers, etc. So, select your platforms such as Facebook, Instagram, Twitter, LinkedIn, TikTok, YouTube, Pinterest, Tumblr, Myspace, Reddit, Skype, FB Messenger, WhatsApp Messenger, Hangouts, IMO, Viber, Email, and more.
8. Your Timeline
Here you can share your video and write something about it, such as Facebook social media timeline.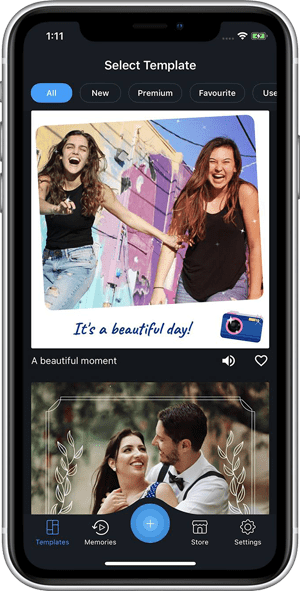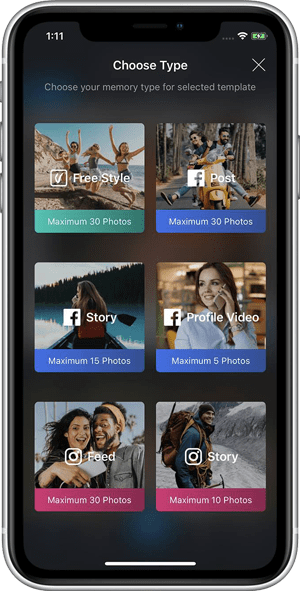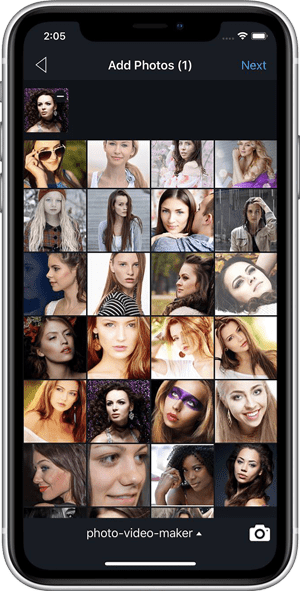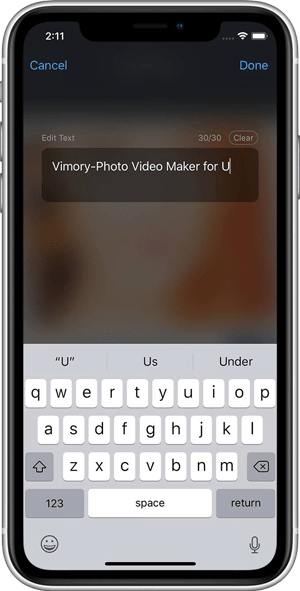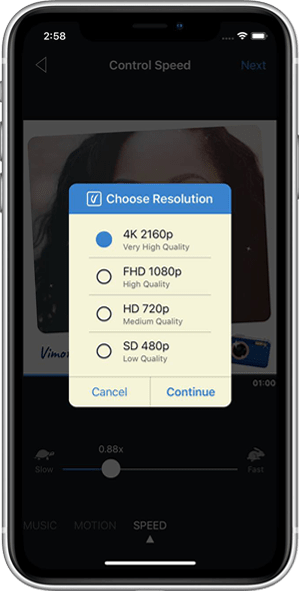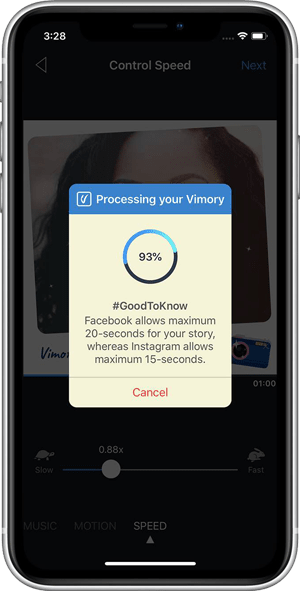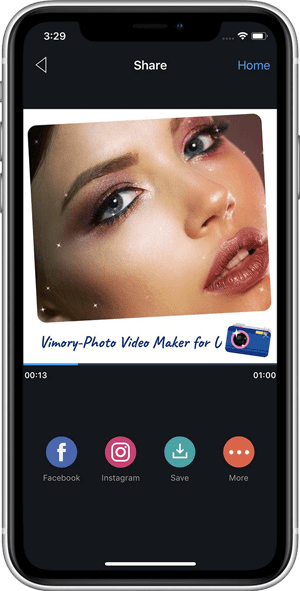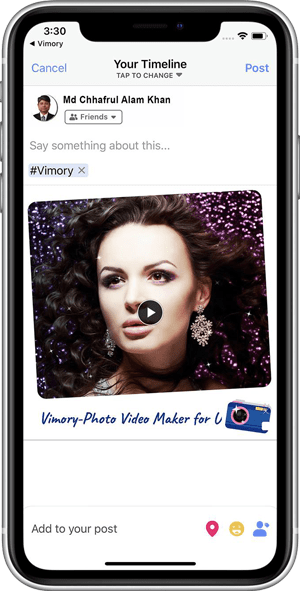 MAKE STUNNING VIDEOS IN MINUTES!
Make your first video today!
Create and share videos for free. Upgrade anytime for more customization.
We want to help make amazing videos
As you start making your videos, we're here to help along the way!
Get started with Vimory and visit the Vimory help center for your answers to your questions. Join the Vimory Social Media Community. A team of video experts is ready to help you grow with tips, ideas, inspiration, along with feedback on your videos.
VIMORY: Slideshow Video Maker & Photo Editor Mobile App can easily be downloaded and installed on your compatible mobile device. Please look through the most frequently asked questions or contact us for more details if you have any questions.