NO EXPERIENCE IS NEEDED. DIY.
Free Product Video Maker: Make Product Promo Videos from Photos
Join 1 million+ marketers who have fallen in love with Vimory.
Make a masterpiece in minutes. Create engaging product videos for free with VIMORY's drag-and-drop Product Video Maker and share them everywhere instantly. Mix your product photos with music to make a professional product video that will impress your customers, clients, buyers, purchasers, shoppers, consumers, patrons, investors, etc.
🛍️ You Believe It Or Not 🛍️
✨ It is surprising but true.
👪 Consumers are more likely to make a purchase after watching a video 📽️.
🔥

📦 Create product videos that increase sales 🛍️.
You Make Product Videos For Sale and Customers Want to Watch For Buy
Whether you are doing business online, offline, or both, you know that your brand and products need a modern digital marketing strategy to match. Still, it can be tough to find new ways to present your products to your target audience while balancing the day-to-day demands of owning and operating your business. In these circumstances, Vimory Product Video Maker can be the best choice for your brand and product promotion through social media and other web mediums. It's perfect for all types of businesses, brands, and social media platforms. You can create unlimited product videos with Vimory.
Create sensational product videos for marketing.
Bring your 📸 photos to life with VIMORY 📦 Product 📽️ video maker.
Product Video Maker for iPhone and Android Mobile Phone
Create a product video that builds trust and increases consumer interest. Then, use Vimory to engage your audience and increase revenue from your products.
Make stunning videos with product photos in seconds.
If you want to increase sales, then product videos are most important for any product. It's a universally proven way. VIMORY is the effortless way to turn your product images into an engaging product video with fashionable text, animation, transitions, emoji, slide, effect, frame, filter, music, motion, speed, etc. It is easy to make videos to showcase your products on your eCommerce website or any online store. Create how-to videos, product demo videos, product promo videos, and many more using your high-quality product images. Even you can drive customers to your online store with video ads that get results. You can give your brand a boost.
Just add your photos into the vimory product video creation mobile app and quickly rearrange your images to tell your product story. Drag and drop your way to create a stunning product video in minutes. No editing or video-making experience is required!
Make a Product Video in 3 steps with Vimory Video Templates
Select your desired video template from Vimory's slideshow video templates library.
Add your Product photos and modify the default text. Then, follow the following instructions displayed by the Vimory app on your device screen.
Artificial Intelligence (AI) powered professional slideshow video maker Vimory will do the rest of all automatically.
Get started with VIMORY Product video maker templates that make it easy to create videos instantly from your product photos
CELEBRATE SPECIAL MOMENTS
You can turn your kid's birthday party photos into a video memory using this impressive template. It's a very simple way to make a birthday party photo to video slideshow for any social media posts.
World's people are waiting for you. Gorgeous is a fashion magazine template. Using it, you can turn yourself into a professional and stylish fashion model. So, spread the word about yourself.
Turn your shopping photos into a fashionable video memory using this template. It is suitable for professional wholesalers, retailers, clothing, and any brand selling for commercial purposes.
You can bring your old memories alive using this effective memory-making template. It is best for those who love to make their old memories using old photos. Professional video-making template.
You can turn your happy marriage anniversary photos into a magical video memory using this excellent photo-to-video-making template. Make your dream video memories with a few touches.
You can make yourself like a professional model using this excellent, fast, and easy template. It is helpful for Instagram and all social media users. Show yourself as a model before the world.
Product Video Maker - Best Practices
Make and use product videos to show customers everything they want to know
First sales are needed to come from your product launch video.
So, use product videos to show your audience the following:
What your product does.

Who your product is for.

How it helps your consumers fulfill their purposes.
Use a mix of text, music, and high-quality photos to bring this information to life and make your video compelling. Vimory supplies the text and music. All you need is your product photos!
Answer questions
People have questions, and they are going to ask all that questions about your product. So you know all information about your product. It seems clear to you may not be so clear to others. You have to be sure that; you are getting opinions from people living outside of your company. For example, to ensure that you are answering the most relevant questions for your customers. If you have an upper-level or complicated product, you may need to create an additional Frequently Asked Questions (FAQs) video. Luckily, you can use Vimory to make limitless product videos without squeezing your schedule.
Make it shareable
The biggest strength of product video is incredibly shareable and makes amazing social media platforms content. But, it would be best if you still made your product video entertaining, educational, etc., that people get inspired to share it.
Use Vimory to create a product video that is eye-catching and entertaining. Then add your personality and sense of humor to make your product video go viral.
Don't Limit Yourself
It is not right to limit yourself to one idea. So please, make videos for the product and celebrate all types of events and the memories of your business and all the special moments in your life. Try to combine everyone that was there to make you happy, and don't forget to use Vimory's video-making simple techniques.
Use high-quality photos for the best output.
Make a product video in the time it takes to watch your competitors'

Please make a product video that makes it impossible to say no
People naturally have objections to everything.
So, study potential customers to know common objections to buying. Then, discuss those objections in your product launch video. That way, customers won't say anything instead of "Yes" after watching your product video.
Be concise
Your product launch video must be as comprehensive as possible.
Unfortunately, though, video views drop off sharply after about 2 minutes.
So, aim for the 2-minute mark with your product videos.
Work with a pre-built template to set limits for yourself if you need help keeping the video short.
Of course, you can always produce multiple videos and address benefits, features, and questions separately.
Always include a call to action
The complete goal of your product launch video is to build interest in your new product and make those initial sales.
It means that always your product videos should have a call to action.
To make your call to action visible for those who watch videos without sound, use text.
In today's world, most people are doing this.
The main reason is that they have no sufficient time to listen, but they have plenty of time to watch.
So, you have to take that chance to win.
If you follow the above tips and use a product promo video maker like Vimory, you will be producing mind-blowing product videos in no time, with no budget. That's how you have a chance to maximize your business revenue.
Finding photos for business videos
Use photos you already have
Looking for images to add to your video?
Start on social media. Take a look at what you've already posted and see if there are images you can include. You can also look to your website or catalog for image inspiration. Take product photos, your logo, pictures of staff and add those to your next project.
Grab content from customers
In business, word of mouth is one of the best advertisement ways. Ask customers if you can use pictures of them using your products and take screenshots of your best reviews.
Where to share your slideshow video
Post it on social media
Share on Facebook, Twitter, and more, right from Vimory's photo-video maker. You can also download your video and post it to your favorite social media platform.
Show it at an event
Project your video on a screen and share it on Television. Download your video onto a USB drive, and you are ready in moments. Feature an anniversary, wedding slideshow, a memorial tribute, a graduation video, a trade show video, etc.
Add video to your website
A helpful video can help convert customers, whether driving traffic to your website, Amazon, YouTube, Facebook, etc. Share a product demo, interview employees / customers / explore your company's origin story by turning your images into a video.
Let's get started with your product video making
Make a product video that increases your sales tremendously.
The product launch video is the backbone of a successful product launch. It's a proven and effective way of boosting your product organically from the beginning.
Believe It Or Not
This is surprising but true. Shoppers are more likely to purchase after watching an informative and beneficial product video. Video is the best way to get attention and deliver all the exciting details about your products. In addition, the video creates educational material more enjoyable and easier to understand. Video is highly shareable. There is no better way to get the word out about your products and ensure that your product launch is uncontrollably successful.
Make a product launch video that pays for itself again and again.
If you are launching a new product, you most likely need to make your product video before making any sales. So, it would be best if you had a product video maker that does not burn up your whole profits before you get your launch off the ground.
Vimory can help you. You can create an unlimited video for free. And, you get access to Vimory's entire library of video templates, transitions, emoji, slide, effect, frame, filter, music, motion, speed, etc., at no cost.
Spend some time with product video production
About the launch, anything new is always a cyclone. So creating product videos for selling can easily get pushed to the bottom of your to-do list. Use Vimory to make fantastic product videos faster than you can catch your breath between productivity sessions.
Add text, transitions, emoji, slide, effect, frame, filter, music, motion, speed, etc., and use your brand colors to create your best product videos ever. No more spending days stuck to make videos.
Video templates are an extremely easy way to make perfect product promo videos at any time.
Producing the classic product launch video is a challenging job. There is much planning and writing that goes into even a very short video. That's why Vimory has a vast library of video slideshow templates that make the creative process a breeze.
The bright side is that you just select a video template, add your high-quality product images, and rearrange things around your taste. Publish your product video. Please, sit back and watch it go to work for you.
How to make a Product video with Vimory [ A Step-by-Step Guide ]
1. Select Template
Vimory templates are pre-designed for instant video making. You can use it to make on-the-spot videos. It includes everything you need, such as animation, frame, filter, music, etc.
2. Choose Type
Here you can choose your memory type for your selected template.
3. Add Photos
Here you can select photos and add them by clicking the "Next" button.
4. Customize Text
Here you can edit, remove, modify the default text, and you can add new text (custom text).
5. Choose Resolution
Here you can choose video output quality such as 4K(2160p), FHD(1080p), HD(720p), SD(480p), etc.
6. Processing your Vimory
Wait – it's your video processing time. End of this process, you will get your desired video for sharing.
7. Share
You are here. So, your video is ready to share. Now you can share your video with friends & family, fans, followers, etc. So, select your platforms such as Facebook, Instagram, Twitter, LinkedIn, TikTok, YouTube, Pinterest, Tumblr, Myspace, Reddit, Skype, FB Messenger, WhatsApp Messenger, Hangouts, IMO, Viber, Email, and more.
8. Your Timeline
Here you can share your video and write something about it, such as Facebook social media timeline.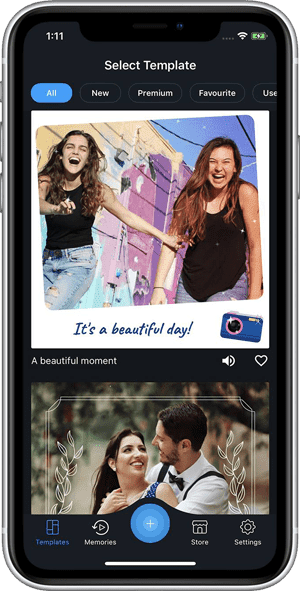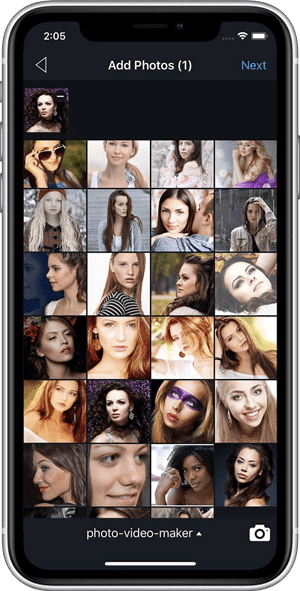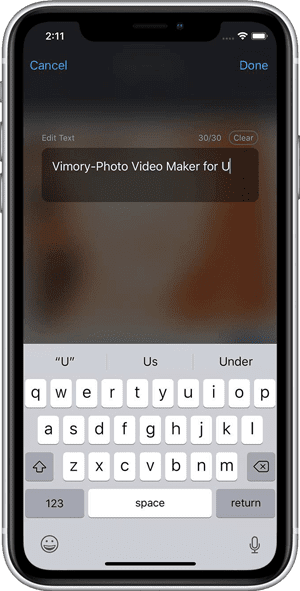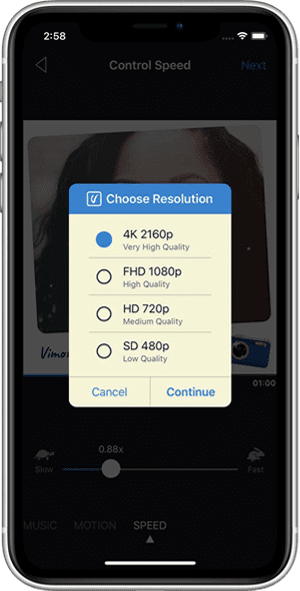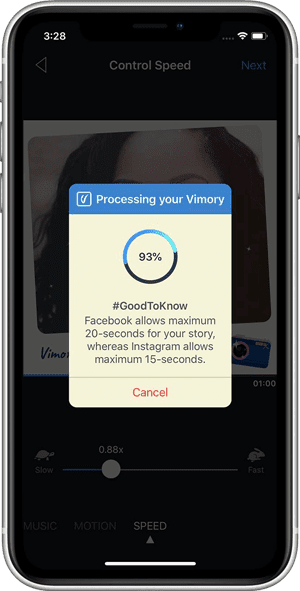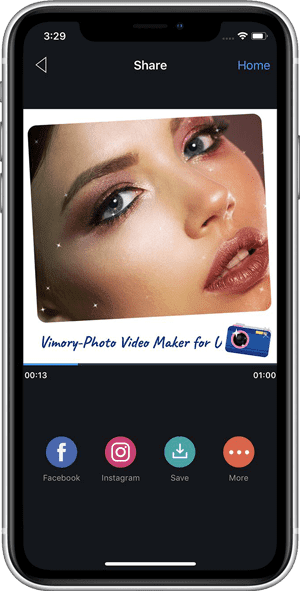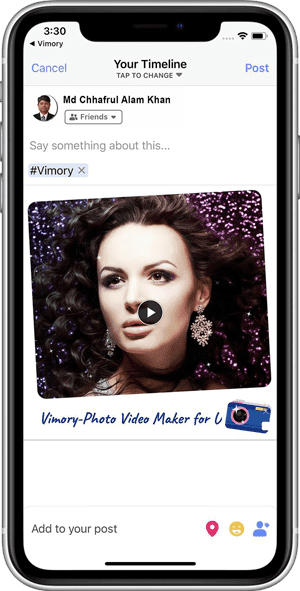 MAKE STUNNING VIDEOS IN MINUTES!
Make your first video today!
Create and share videos for free. Upgrade anytime for more customization.
We want to help make amazing videos
As you start making your videos, we're here to help along the way!
Get started with Vimory and visit the Vimory help center for your answers to your questions. Join the Vimory Social Media Community. A team of video experts is ready to help you grow with tips, ideas, inspiration, along with feedback on your videos.
Feel secure with 24/7 customer support.
VIMORY: Slideshow Video Maker & Photo Editor Mobile App can easily be downloaded and installed on your compatible mobile device. Please look through the most frequently asked questions or contact us for more details if you have any questions.